A family trip to Hawaii
Wednesday Oct 17th, 2018 Tripfocal
Overview of trip
A two week trip that starts with a 14 hour plane ride is simply an overwhelming experience for any child. Yet we decided that a trip to Hawaii with the kids was going to be fun and worth it.
The day of flights went fine, until we boarded an old American Airlines plane, with no power jacks and iPads that were not fully charged. With 3 hours left on the flight, my 5 year olds iPad died, there was no seat back TV, and he had no desire to play legos. I gave up my iPad and we survived the flight.
Landing in Kona and driving up the coast was not making things better. We thought we had landed on Mars. The sides of the coastal highway north of Kona airport are covered with volcanic rock, not exactly how we imagined Hawaii. Halfway through the 30 minute drive my daughter, who was 9, started balling. Then it started to rain.
My wife and I looked at each other and of course started quietly questioning what was going on and had we made the right decision. We knew it could only get better, it hadn't been so bad, but this was a big trip, with lots of moving parts and something needed to change soon.
Fairmont Orchid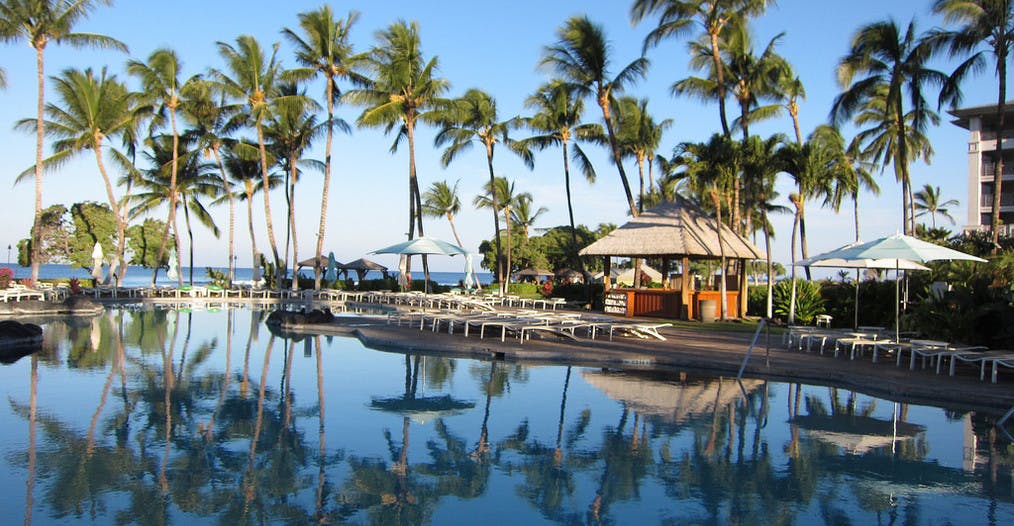 We turned off the highway and headed to the Fairmont Orchid. On arrival, we were met with smiles, lays and of course an unbelievable rainbow across the hotel.
After arriving in our room, and having no clue what time it was, or caring, we changed into bathing suits and ran to the pool. It of course started to rain, but with 30 C plus temperatures, who cares.
The kids loved it and were amazed by the lagoon beach that appeared to be calmer than the pool. On the way over we saw about 6 massive turtles coming ashore and soon the sun started to set.
If you have not witnessed a sunset in Kona, then please figure out how to. It literally drops into the ocean and there is a quick flash and it is gone. We imagined what the explorers must have thought, confirming their belief the world was flat — from this vantage point it was!
We managed to eat and soon had no choice but to head to sleep. The kids were out by 7 and my wife and I bit later. We salvaged the day and things were looking up — even with our sleepy heads!
At 4 am I woke up, checked my phone and realized I was the victim of jet lag and this was not going to be fun. The first thing that popped into my mind was the bellman who told us at least 5 times, the pool is open 24/7 and is heated all night long. I obviously was not the only one who dealt with jet lag.
After catching up on email, and assuming my family was sleeping, I changed into my bathing suit and figured how cool to go swim right now. I walked into the other room and found my daughter and younger son sitting on their bed watching a video — welcome to the jet lag club I told them. Then I enticed them with a "Lets go swim under the stars!" How cool they said and off we went, bathrobes and all.
The minute we set foot outside by the pool, the flight, the weird volcanic rock and the jet lag all seemed to disappear. The sky was lit up with stars and the constellations were amazing. We searched for the dippers, and couldn't get over the bright sky.
And yes the pool was heated, though weighing in at 37 pounds my youngest still got chilled! It was amazing, the water was delicious and swimming under the stars made the start of our first full day in Hawaii amazing.
The rest of the trip was fantastic and we had one adventure after another. But that first night swimming under the stars, that was truly a highlight to remember always.